China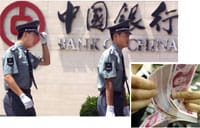 The Bank of Chinas plans to seek an overseas listing later this year suffered a setback with the revelation that two officials at a northeastern branch had absconded with 1 billion yuan of client money. The incident again calls into question the efficacy of internal controls within Chinas state-owned banks. The bank has responded to regulators demands to improve its risk controls by merging its existing supervision and audit departments.
Another issue that has stubbornly resisted attempts to bring it under control is Chinas relentless GDP growth. In the year to the fourth quarter, GDP growth beat analysts forecasts with a rise of 9.5%, compared to a rise of 9.1% in the year to the third quarter. Consumer price inflation eased to 2.4%, which at least partly allayed the fears of those who predict Chinas economy might be heading for a bumpy landing.
Hopes that China and Taiwan might smooth their troubled relationship rose when, for the first time in 55 years, direct flights between China and Taiwan resumed over the Chinese New Year holiday period ushering in the Year of the Rooster. Regular cross-straits travelers, who until now have been obliged to detour via Hong Kong or another airport outside the mainland, hope that direct flights will become a regular event.
While China is seemingly becoming more open, some of its trading partners are still wary. Security concerns in the US have cast a shadow over IBMs proposed $1.75 billion sale of its personal computer business to Lenovo, Chinas largest PC maker. In a letter to US treasury secretary John Snow, three senior American congressmen have written of their fear that the deal may transfer advanced US technology and corporate assets to the Chinese government. In response, the Committee on Foreign Investment in the United States, which vets national security aspects of corporate sales to foreign purchasers, has extended its routine 30-day investigation by a further 45 days. Most observers still expect the deal to be cleared.

Fraser Richardson