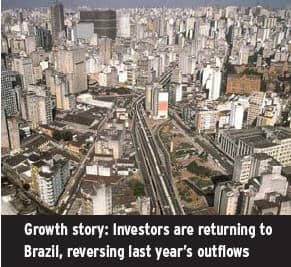 Citing Brazil's prudent economic policies, Standard & Poor's affirmed the country's BBB- investment-grade rating with a stable outlook. In its rationale, S&P; said Brazil's low investment-grade ratings are supported by the government's ongoing commitment to prudent macroeconomic policies. S&P; expects president Luiz Inácio Lula da Silva's strong popularity to facilitate implementation of policies to contend with this year's economic challenges.
A central bank survey, though, shows Brazilian economists are predicting the first economic contraction in 17 years. Economists, who predict a 0.19% GDP decline, had previously predicted zero growth. The Organisation for Economic Co-operation and Development (OECD) is more bearish, predicting Brazil's economy will shrink 0.3% after last year's 5.1% expansion. The central bank cut its own 2009 growth forecast to 1.2%, from its 3.2% prediction last December. In its most recent economic stimulus effort, the government unveiled a $15 billion plan to build 1 million homes for low-income families by 2011 that will create as many as 1.5 million jobs.
According to Brazilian investment banking association Anbid, investors appear optimistic as Brazilian investment funds saw some $1.5 billion in net inflows in March. Anbid believes increased risk appetite, reduced local market volatility and easing competition from fixed-income bank deposits amid falling interest rates triggered the trend reversal. Anbid predicts funds will expand by 20% this year.
A corruption scandal continues to rock Camargo Corrêa, a major Brazilian construction and engineering conglomerate, amid charges that it allegedly made political contributions in exchange for contracts from government agencies. Authorities are also considering adding money-laundering charges. In April police raided the company's São Paulo offices and detained executives. Petrobras, the state-owned oil company, suspended payments to the builder for work on a refinery project. Camargo Corrêa had $16 billion in sales last year.
—Antonio Guerrero