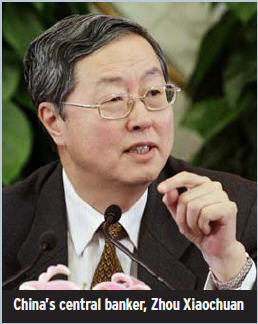 China's foreign exchange reserves, the largest in the world, grew at the lowest rate in eight years in the first quarter as export markets cooled and foreign capital inflows slowed. The reserves increased by $7.7 billion to $1.95 trillion, representing the smallest increase since the second quarter of 2001. Chinese officials have already expressed concerns about over-exposure to US currency-related risks, and China's central bank governor, Zhou Xiaochuan, issued a statement in March calling for the creation of a super sovereign reserve currency.
While much of the world is still mired in the credit crisis, Chinese banks issued a record high 1.89 trillion yuan ($276 billion) in new loans in March, representing a six-fold year-on-year increase. The rapid loan growth boosted first-quarter lending to 4.58 trillion yuan. The abnormally high figure encouraged economic recovery hopes while also fueling fears about loan quality. Deposits also increased 26%, helping the Industrial and Commercial Bank of China (ICBC) to become the world's largest bank by deposits.
China's Ministry of Commerce (MOC) stoked international fears of protectionism in late March when it blocked a bid by beverage giant Coca-Cola to acquire China Huiyuan Juice Group. The MOC cited the country's anti-monopoly law, which took effect in August, as justification for the ruling.
Automobile sales in China grew by 5% year-on-year to a record-high 1.11 million units in March, making China the world's largest car market for the third straight month. Government policies offering tax breaks and subsidies for small-car purchases helped produce the strong sales numbers. Chinese officials also outlined plans in April to promote the country's electric automobile industry. Sizable subsidies for electric car purchasers feature prominently in the plan, as the country seeks to improve its own environment and increase the international competitiveness of its companies.
—Thomas Clouse