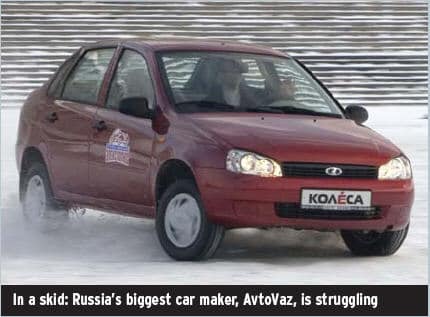 The first meeting between US president Barack Obama and Russian president Dmitry Medvedev, at the Group of 20 summit in London in early April, appeared to lay the foundation for an improvement in relations, which had plunged to fresh post-Cold War lows in the final months of the Bush administration. Arms control was the main topic of discussion.
The rebound in Russian equity markets in recent weeks, outperforming even the historic bounce in US and global markets, and the recent stability of the ruble provided a long-needed sense of normality among investors. A raft of statements from senior Russian government officials suggested that the economy has hit bottom, and the announcement of a comprehensive anti-crisis package buoyed sentiment.
But the Russian economy is not out of the woods: Unemployment is rising sharply, disposable income is falling, retail sales in February posted their first decline in nearly a decade, and GDP growth may fall as much as 5% in 2009. Non-performing loans are forecasted to rise toward 10%. On a related front, the announcement that Russia hopes to issue $5 billion in sovereign debt, in what would be the first issuance since 2000, was interpreted as a positive sign that the Kremlin is thinking proactively about ways to bridge the anticipated budget deficit of roughly 7% for 2009.
The Russian government agreed to provide AvtoVAZ, the country's largest auto maker and one of its single biggest employers, an interest-free loan for roughly $700 million, while it also announced that it will bail out Gaz, another large car maker. The Russian government has indicated that it will support so-called strategic companies, as well as socially important companies, such as large employers in one-company towns. But other large corporates, some of which had been counting on government support, may find that the government bailout taps will run dry, as the Kremlin focuses on husbanding its reserves in case the country's economic situation deteriorates.
—Kim Iskyan