Russia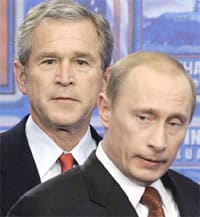 Troubled times: Putins summit with Bush was a disappointment

It seems that the so-called Yukos affair just wont lie down. Now, on the domestic Russian front, a messy struggle has broken out between governmentowned oil company Rosneft and government-owned gas company Gazprom over control of Yuganskneftegas, the main production unit of Yukos. The conflict throws into doubt the Kremlins apparent overarching aim of creating a single, monolithic statecontrolled energy company to be used as a foreign policy tool.
Russian President Vladimir Putin faced frustration on another front, too, after a longanticipated summit with US President George W. Bush yielded no significant breakthroughs. While still cordial, the relationship between the two leaders has clearly cooled since their chummy meetings of a few years ago.
Putins popularity ratings fell to new lows, largely over painful social reforms that started to be implemented in January. But despite the decline, most polling agencies report that he enjoys approval ratings in the 60% regionwell below the 85% readings of his peak, but reflective, nevertheless, of broad-based support.
The Russian President will be hoping that support does not erode further, as a number of high-profile figures are emerging to challenge him. On the one-year anniversary of his sacking from the position of prime minister, Mikhail Kasyanov publicly criticized the Kremlin for turning away from democracy and hinted that he may run for president in 2008. Later, Russian chess champion Garry Kasparov announced that he was retiring from the game in order to challenge what he called the dictatorship of President Putin. Kasparov already heads a group called 2008: Free Elections, which is focused on preventing Putin from seeking a third term in office.
In the latest blow to Russias imperial ambitions following the rise of Viktor Yuschenko in Ukrainethe victory of the ruling communist party in Moldova positioned the country to make a decisive turn away from Russia, in favor of closer links with Europe and the United States.

Kim Iskyan