China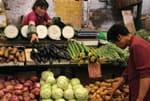 Cost concerns: Rising food prices are fueling inflation.
Investors anxious about overheating in the Chinese market had more cause for concern this month as China's National Bureau of Statistics revealed that consumer prices rose by 5.6%, year on year in July, compared with only 1.5% a year earlier. Much of the increase stems from rising food prices. China's central bank has been trying to skim the froth from the economy by steadily raising interest rates. It also repeatedly upped the required reserve ratio for banks in an attempt to cool economic growth to a more moderate level. The economy grew by 11.9% in the second quarter, the fastest rate in 11 years.
China has revoked the export licenses of two Chinese companies, following toy recalls in overseas markets. Hansheng Wood Factory, which supplies Illinois-based RC2, and Lee Der Industrial, which produces goods for Mattel, will lose their export licenses, domestic media have reported. Shortly after the news emerged, Lee Der's owner, Zhang Shuhong, reportedly hanged himself. In recent months, several safety-related controversies have centered on Chinese-produced items such as cough syrup ingredients, pet food, toothpaste, tires and seafood. The Chinese government has taken several steps, including the revocation of export licenses, to restore confidence in Chinese-made products and is also encouraging foreign companies to more carefully monitor their suppliers.
The Industrial and Commercial Bank of China (ICBC) became the world's largest bank by market capitalization in July, surpassing international banking giant Citi. Appreciation of the Chinese yuan relative to the dollar and weaker share prices for Citi contributed to ICBC's taking the top spot.
China's leading B2B e-commerce company, Alibaba.com, applied to list shares on the Hong Kong Stock Exchange, according to reports in July. Following those reports, the company confirmed it was preparing for an IPO. Alibaba.com, founded by former English teacher Jack Ma, provides an Internet platform connecting Chinese manufacturers to potential buyers in China and around the world. The company is the largest source of revenue for China-based Alibaba Group, of which Yahoo owns 40%.
Thomas Clouse