INDIA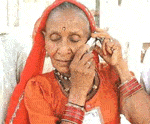 India calling: Global telecom firms
muscle in on a fast-growing market.
Following the recent acquisition of Indian telecom company Hutchinson Essar by Vodafone Group in May 2007 for $11 billion, Russian telecom company Sistema's acquisition of a 10% stake in fixed-line operator Shyam Telelink in September and Verizon's Indian partner's recent bid for 22 telecom licenses, speculation has grown about AT&T;'s potential growth in India through acquisitions. Both Verizon and AT&T; have already established 74%-owned Indian subsidiaries under the country's new ownership rules. Now expectation is running high of an impending AT&T; acquisition in the wireless space following recent statements made by CEO Randall Stephenson.
AT&T; exited its Indian telecom joint venture in Idea Cellular in 2005, where it held a minority stake. AT&T; has also won its own licenses in India for operating domestic and international long-distance services. But wireless is the main growth area in India, with the industry adding 6 million to 7 million new subscribers every month.
It is not just telecommunications that is brimming with foreign investment activity. The Indian stock and commodity exchanges are seeing their share. Merrill Lynch and Citi have each purchased a 5% stake in the Multi Commodity Exchange (MCX), India's largest commodity exchange, while two other foreign funds—Passport India Investment and GLG Financials Fund—have picked up a combined 5% stake for a total investment of $165 million. Earlier in the year, the National Stock Exchange sold a 20% stake to a group of investors including the NYSE, Goldman Sachs and General Atlantic, and the Bombay Stock Exchange sold a similar stake to the Deutsche Börse and Singapore Stock Exchange. Goldman Sachs had earlier picked up a 7% stake in NCDEX, India's second-largest commodity exchange.
To meet its growing energy needs, especially that of natural gas, India has agreed to join the Turkmenistan-Afghanistan-Pakistan pipeline that will deliver between 30 million and 45 million metric standard cubic meters per day of natural gas to India. This pipeline is backed by the United States as an alternative to a pipeline proposed by Iran to deliver gas to India via Pakistan. India has since backed out of the Iranian gas pipeline project. The four-nation gas pipeline will become operational by 2010 or 2011.
Aaron Chaze