India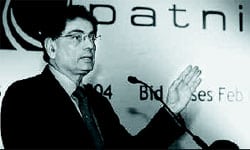 Narendra Patni, CEO, Patni Computers

The McGraw-Hill Companies (MHC) made a long-awaited move and announced an intention to acquire a 55.67% stake in CRISIL, Indias leading credit rating agency, through S&P; LLC, its wholly owned subsidiary. MHC currently owns 9.5% of CRISIL. Even though the proposed investment is small, at just $55 million, it is being viewed as a significant development since it indicates S&P;'s growing confidence in the Indian economy and could be a sign that more aggressive FDI flows are on their way.
S&P;s move is by no means an isolated development. Global banks, too, are signaling their interest in investing in India by making small but strategic purchases of smaller regional Indian private sector banks or rapidly expanding their own banking presence. Canadas Scotiabank has recently acquired a 7% stake in the Bank of Punjab. The current regulations do not allow foreign investors to hold more than 10% of the voting shares of private sector banks, but the view being taken is that this restriction will be eased soon. HSBC has said that it would pump in $243 million to organically expand its existing Indian operations.
High-quality listed Indian banks from the public sector, too, are issuing equity, largely to provide an entry opportunity for foreign institutional investors. Punjab National Bank, one of the nations larger banks, floated 80 million shares in the first week of March, attempting to raise $650 million, with a 50% reservation for foreign institutional investors. That portion of the book was oversubscribed by 11 times within minutes of opening.
The capital-raising bug is spreading to other sectors as well. Patni Computers, one of the stellar IT hardware stories in India, is looking at a $150 million ADR issue and a subsequent Nasdaq listing, cashing in on the growing demand for Indian equity.
As foreign investors continue to lap up the India investment story, the foreign exchange inflow has continued unabated. According to the Reserve Bank of India, forex reserves climbed to a record $137.5 billion, largely due to sustained investment inflows.
Aaron Chaze