BRAZIL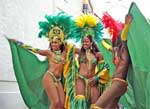 The good times roll: Brazil's economy provides plenty of reasons to celebrate.
Brazil-focused hedge funds continued to outperform other emerging market funds, producing an average 5.11% return in October, for a hefty 29.47% year-to-date (YTD) gain. By comparison, Latin America-focused funds gained 3.6% in October, for a 20.61% YTD increase. Likewise, India funds returned 8.02% in October (up 34.88% YTD), and China funds rose 3.87% during the month, though posting a stronger 53.86% YTD return.
Following a blow-out IPO by the São Paulo Stock Exchange (Bovespa), Brazil's BM&F; commodities and futures exchange raised some $3 billion through an IPO of its own in December. Pricing, which initially had been expected to be between 14.50 reals and 16.50 reals, came in at the top of a band later set at 18 reals to 20 reals. Lead managers were Morgan Stanley, BBI, Merrill Lynch, Itaú BBA, Deutsche Bank and Citi.
On the corporate front, Sadia, a Brazilian meat and poultry processing company, announced its first international asset investment. Sadia invested $30 million in a processing plant in the Russian city of Kaliningrad. Local partner Miratorg put up another $20 million for the venture. Sadia executives say the company now plans to invest $56 million to establish a new processing plant in the United Arab Emirates.
Brazilian mining giant CVRD, which has officially changed its name to Vale, has formed a joint venture with South Korea's Dongkuk Steel to build a coal-based steel slab plant in Brazil's northeastern state of Ceará. The plant's first phase will involve an estimated $2 billion outlay. Companhia Siderurgica Pecem, the new joint venture firm, will have an initial annual production capacity of 2.5 million metric tons.
Brazil's state-controlled Petrobras oil company increased its stake in Brazil's Braskem, Latin America's largest petrochemicals company, to 25% from 6.8%. Braskem plans to sell 103.4 million new shares over the next six months. Moody's has given Braskem an initial corporate family rating of Ba1 with a stable outlook.
Antonio Guerrero