MIDDLE EAST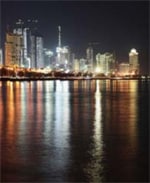 Bright future: NYSE deal boosts Doha market.
General Electric of the United States has formed an $8 billion joint venture with Mubadala Development, a sovereign wealth fund based in Abu Dhabi, to invest in emerging markets in the region and in Africa.
The fund will focus initially on commercial finance, with GE and Mubadala each contributing $4 billion in equity over three years. The fund's assets are expected to reach about $40 billion. The far-reaching agreement also calls for the two companies to build a research center for clean energy and water at Masdar City, the new eco-friendly city under construction near Abu Dhabi, capital of the United Arab Emirates.
State-owned Mubadala Development says it plans eventually to become one of GE's 10 largest shareholders. Morgan Stanley advised GE on the deal, which also would allow the US conglomerate to expand its aircraft-engine servicing and oil and gas field services in the region.
Meanwhile, in gas-rich Qatar, NYSE Euronext has agreed to pay $250 million for a 25% stake in the Doha Securities Market (DSM). The operator of the New York Stock Exchange will provide technology and manage the DSM's operations, as it seeks to create a center for equities and derivatives trading in the region. The exchange will face competition for listings from Borse Dubai, which has teamed with Nasdaq.
Citi has chosen Bahrain as its Middle East hub for its fund-administration operations. The bank will use the center to expand its services to local and offshore funds managed in the Gulf region.
In Ramallah, the Bank of Palestine has received a $15 million investment from the World Bank's IFC to support private-sector development in the West Bank and Gaza. "We believe that IFC can help foster stability and intermediation of the financial sector, which is important for economic growth," says Jihad Al Wazir, governor of the Palestinian Monetary Authority. The Bank of Palestine will use the funds to support student loans, trade finance, mortgage lending and financing for small and medium-size enterprises.
Gordon Platt