MIDDLE EAST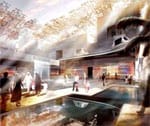 Sustainable development: Abu Dhabi plans to create an eco-friendly city.
Abu Dhabi, capital of the United Arab Emirates, the world's third-largest oil exporter, is building a $22 billion carbon-neutral city near its international airport. Known as Masdar City and designed by British architectural firm Foster and Partners, the automobile-free city is part of the Masdar Initiative, Abu Dhabi's investment in the development and commercialization of clean-energy technology. Masdar City will include a new campus in partnership with the Massachusetts Institute of Technology to conduct renewable energy research. The Worldwide Fund for Nature (WWF) will work with Masdar to ensure that the city of 50,000 people and 1,500 businesses meets sustainability standards.
Masdar's Abu Dhabi Future Energy signed an agreement on May 30 to buy three solar-panel manufacturing facilities from Santa Clara, California-based Applied Materials for $2 billion. The output of these thin-film photovoltaic plants will be sold in Europe and also used to provide electricity to Masdar City, which will take eight years to build.
Meanwhile, in Dubai, the UAE's other futuristic city, the Dubai International Financial Center announced new regulations to address the needs of family-run institutions and to encourage ultra-wealthy families to establish holding companies at the DIFC to manage their wealth. "In the Middle East, where more than 75% of firms are family-run and with total assets in excess of $1 trillion, the need for a specialized legal and regulatory framework is especially acute," says Omar Bin Sulaiman, governor of the DIFC.
Also in the Gulf, Bahrain is continuing to attract financial institutions interested in setting up funds to invest in the region. The Central Bank of Bahrain (CBB) granted a license in May to BNP Paribas to establish a fund management firm. The Paris-based bank said it selected Bahrain as its regional hub in the Gulf. The CBB adopted new rules in mid-2007 that allow hedge funds and other alternative investment vehicles to be legally domiciled and sold in Bahrain. The workforce of Bahrain's banking sector grew by 20.6% in 2007, according to the CBB's latest employment survey. Six new banks have set up operations in Bahrain so far this year.
Gordon Platt