INDIA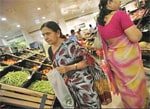 Organized retail is growing in India.
India's economic growth continues apace. For the April-June 2007 quarter, which is the first for the Indian fiscal year, GDP growth was 9.3%—up marginally from the previous quarter's growth, which came in at 9.1%. Over the full fiscal year 2006-2007, India's economy grew by 9.4%, propelled mainly by double-digit growth in manufacturing and services. The expansion is providing welcome news for the government: According to the Ministry of Finance, direct tax revenues between April and August of this year skyrocketed by 42% to $15 billion as a result of economic buoyancy.
According to the Confederation of Indian Industry (CII), the Indian manufacturing sector output grew by 10% from April to June 2007, despite the backdrop of a tightening monetary environment. Among the 100 manufacturing subsectors tracked by the CII, 23 recorded growth in excess of 20%. Manufacturing growth is at a nine-month high, driven by India's consumer boom.
Cashing in on the consumer boom are conglomerates such as Reliance Industries that have entered retailing in a big way. A little over 90% of retail sales in India are through unorganized, single-owner stores, but organized, branded retailing is growing by 35% annually. Reliance Industries has announced a $6 billion rollout of "hypermarts," which is already well under way in several parts of the country.
Growth momentum like this is expected to continue, and demand for power is expected to soar. The Power Grid Corporation has announced it will invest $44 billion in expanding the national distribution grid across India to transmit 37,000 megawatts of electricity by 2012—up substantially from its current 14,000 megawatts. This investment will keep up with the national electricity plan that is building up India's generation capacity to 210,000 megawatts by 2012. Power Grid launched a domestic IPO in early September to raise around $750 million—the issue was more than 60-times oversubscribed.
Aaron Chaze