INDIA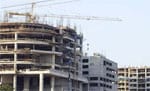 Building hope: One of the few brights spots in the Indian economy, real estate still attracts investors.
Leading Indian manufacturers have dismissed the Indian government's $4 billion stimulus package as insufficient. The Federation of Indian Chambers of Commerce and Industry (FICCI), which represents India's largest manufacturing companies and sectors, says it expects Indian manufacturers to cut production by as much as 50% between November 2008 and March 2009. In a report released in December, the FICCI says that among the sectors that it expects will slash production are textiles, metals and metal products, machinery and equipment, the leather industry and chemicals manufacturers. As they cut production, these sectors could also trim their workforce by 10% to 30%. The report states that India's $4 billion stimulus package will not prevent the cuts taking place.
The collapse in the price of oil has prompted India's largest exploration and production company, state-owned ONGC, to rethink its proposed acquisition of the UK's Imperial Energy. The company says the Indian cabinet committee on economic affairs gave ONGC clearance to make an open offer to shareholders of the UK-listed company just hours before its December 9 deadline was to expire. ONGC had made a successful offer of £12.50 per share in August 2008 but had been holding back from formally filing with the UK regulators and completing the process, hinting at the possibility of renegotiating the takeover price, given falling crude oil prices. The deal is worth $2.1 billion and would be ONGC's largest overseas acquisition so far. Imperial Energy has operations in Russia and currently has between 600 million and 900 million barrels of oil and oil equivalent in Siberia. ONGC is India's largest crude producer, contributing 25% of total Indian crude supply.
While investors seem to have fled most sectors, Indian real estate continues to attract significant funding. IL&FS;, a leading asset management firm in India, successfully raised $895 million in December, largely from US investors, for its second Indian real estate fund. The IL&FS; fund-raising comes close on the heels of Merrill Lynch's raising $2.5 billion for an Asian real estate fund that will invest in India, China, Korea and Japan.
Aaron Chaze