India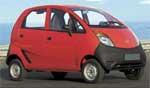 Tata Motors' new Nano: Launch triggered a sell-off in India's auto sector.
Tata Motors, one of India's largest domestic truck and passenger car makers, unveiled a car for India's domestic market priced at $2,500, making it the cheapest car in the world. The company unveiled the "Nano" at India's annual auto expo on January 10. The company has announced an initial annual production of 250,000 cars, which will increase to 1 million by 2010. India's total passenger car market is a little over 1 million cars per year at present and is dominated by Suzuki Motors. The Nano yields a fuel economy of 20 kilometers per liter or 50 miles per gallon.
In the process of developing the car over a four-year period the company has filed for 34 patents on several of the technologies developed and incorporated. It also has announced the pending launch of a hybrid version. The launch of the Nano triggered a sell-off in India's auto and auto ancillary stocks in anticipation of a major price war.
It is not just the automobile sector seeing new growth potential in the domestic market. Domestic outsourcing of IT-related services is a growing trend in India, especially in the wireless and telecommunications sector. Aircel, a wireless telecommunications services operator in India, announced a $600 million outsourcing contract to Wipro Infotech, a division of Wipro, one of India's largest IT services companies. So far IBM has been the largest player in India's local outsourcing business. Vodafone recently announced a $600 million contract to IBM in India for its Indian IT-related activities.
Despite the strength in domestic economic activity, a panel of economists has predicted that industrial growth may begin to slow in India as years of rising interest rates may begin to take their toll. Growth in industrial production in India for November 2007 is expected to be 7.3%, as compared to 11.8% for October. The Reserve Bank of India has raised interest rates nine times since 2004 as it sought to keep inflation below its benchmark of 5%. For the quarter ended September 2007, GDP growth was 8.9%. The World Bank has forecast that India's GDP growth will be 8.4% in 2008 as compared to 9% in 2007.