INDIA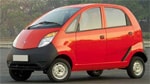 Nano, no? Protests in West Bengal may derail Tata's plans to build the world's cheapest car.
According to a survey by consultant KPMG, India's companies are among the world's most aggressive in buying companies based in the developed markets. According to KPMG's "Emerging Markets International Acquisition Tracker," Indian companies closed 51 deals in the first half of 2008 compared with 11 deals by Russian firms and eight by South Korean firms. Seventeen of the deals done by Indian companies were in the US, with the rest spread across Europe.
Though Indian companies have bought aggressively in the developed world, they are also doing some serious shopping in the emerging markets. The fast-growing telecom market in India has created some giant companies that are now hunting for markets outside of India. Essar Communications has announced a $500 million investment in Econet Wireless Kenya, for example. Tata Telecom, another leading Indian telecom company, has announced a $2 billion investment in global telecom infrastructure, including acquisitions or joint ventures in China. Bharti Airtel, India's leading wireless company, failed in a multi-billion-dollar attempt to buy South Africa's MTN but is courting other emerging markets telecom firms. Funding for this dramatic acquisition spree is coming from the sharp growth in India's telecom market. The Indian wireless market alone is expected to grow to 484 million subscribers by 2011, from 285 million at present.
Indian automobile manufacturers have benefited from a booming domestic market, but political protests are seriously hampering Tata Motors' growth plans. Tata recently made headlines when it purchased British auto brands Jaguar and Land Rover from Ford for $2.3 billion and then rattled the Indian and global automobile world when it unveiled the Nano, the world's cheapest car, with a price tag of $2,250. The company planned to launch the car this month, but work on the manufacturing plant has been stopped due to protests by leftist political parties and farmers in the eastern Indian state of West Bengal, who claim that they have not been adequately compensated for the 1,000 acres of land sold to the company. Tata has already invested $350 million in developing the Nano and in setting up the plant. The company has said that it may consider moving to another location, thus considerably delaying its launch plans.
Aaron Chaze