INDIA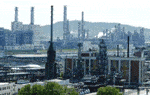 I ndia hopes to boost hydropower capacity
Third-quarter earnings releases by UK telecom giant Vodafone Group and by Switzerland-based Holcim, the world's second-largest cement maker, reflected growing contributions from India's increasingly assertive domestic market on the earnings statements of global corporations.
Holcim reported that it had spent 2.6 billion Swiss francs on acquisitions in India alone to counter the weakening housing market in the United States. The company cited India's annual core infrastructure spending of $40 billion and the fact that this number is likely to double as a major growth factor.
Vodafone said that, largely due to strong performance in countries such as India, it managed to cut losses. Vodafone has spent $10.7 billion on acquisitions in India to counter slowing growth in Europe. Vodafone adds 1.6 million new customers in India every month and has a subscriber base of 35 million. Revenues from its Indian operations grew by 53% for the quarter.
India is contributing not only to global corporate earnings but also to global computing power. India's highly respected conglomerate the Tata Group has developed the fastest supercomputer in Asia. The Top 500 supercomputer list announced at the International Conference for High Performance Computing made the announcement that the Tata computer, with a capacity to do 117.9 trillion calculations per second, is now the world's fourth-fastest supercomputer. The Top 500 list has eight other supercomputers developed in India.
India's economic growth has pushed the government to promise to double the country's power output to 210,000 megawatts by 2012 and to move to more sustainable power sources. Until now, coal-fired plants have dominated power production. Under the new plan, the contribution from hydroelectricity will grow sharply. The National Hydroelectric Power Corporation (NHPC) has announced that it is working on 13 projects that will establish 5,600 MW by 2012. In addition it has completed detailed feasibility studies on setting up another 7,750 MW.
Aaron Chaze