CHINA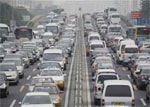 Slowdown: Automakers are seeing sales growth tail off in China.
China's consumer price index (CPI) grew by only 4.9% in August, its mildest pace in more than a year, and export growth slowed to 21%, according to China's National Bureau of Statistics. The lower inflation and export growth numbers could inspire policymakers to loosen monetary conditions, as their focus shifts from inflationary control to economic stimulation. It wasn't all good news, though: Producer prices grew 10.1%, the fastest rate in more than a decade, putting pricing pressures on producers even as consumer price growth slows. Import growth also slowed significantly, giving China another record high trade surplus despite its falling export growth rate.
China's passenger car sales fell in August for the first time in three years, according to the China Association of Automobile Manufacturers. The industry group reported August sales of 451,300, a drop of 6.24% from the same period last year. The Olympic Games may have influenced the market, with consumers delaying big purchases until after the conclusion of the games. Higher fuel prices and greater economic uncertainly also softened sales, though.
Foreign companies are also muscling into other industries. Coca-Cola announced on September 3 that it would offer $2.4 billion to acquire juice maker China Huiyuan Juice Group. Coca-Cola says it has reached a deal to purchase a 66% stake in the Chinese juice maker, but the purchase still requires approval from Chinese regulators. Officials at China's ministry of finance plan to review the purchase under the country's anti-monopoly law. The case will provide the first test of this law, which took effect on August 1. The deal, if successful, will be the largest acquisition by a foreign company in China.
A landslide killed at least 151 people in early September following heavy rains near an illegal mine in Northern China. Many of the people buried in the landslide were migrant workers from other parts of China, complicating efforts to determine the exact number of deaths. China's mining industry, spurred on by strong demand for raw materials and weak enforcement of regulations, is the world's deadliest, with almost 3,800 fatalities reported last year.
Thomas Clouse