RUSSIA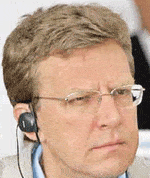 Finance minister Alexei Kudrin

New government-owned oil major Rosneft, which vaulted into the top tier of Russian oil companies with the controversial December 2004 acquisition of the largest production unit of Yukos Oil Company, submitted paperwork to launch an IPO later this year. Officials have indicated that they hope to raise as much as $20 billion in what would be by far Russias largest public offering.
The past month saw another skirmish in the ongoing political battle between prime minister Mikhail Fradkov, economic development and trade minister German Gref and finance minister Alexei Kudrin. A few days after president Vladimir Putin complained about stubbornly high inflation, Fradkov suggested that heads could roll if price growth, caused largely by rising food shortages due to an unusually cold winter, is not brought under control. Neither Gref and Kudrin, to whom the warning was targeted, nor analysts and investors took the threat seriously. Nevertheless, inflation, which stood at 4% over the first two months of the yearcompared with 3.8% during the same period in 2005 and a full-year 2006 Kremlin target of 10%remains the Achilles heel of the Russian economic boom.
After months of delay Putin formally approved the creation of United Aircraft Company, a state-controlled entity that will serve to consolidate the military aviation industry. The effort underscores the growing role of the state in the Russian business sector, particularly in those sectors deemed strategica category that was recently expanded to include the countrys largest automaker.
Russia laid the groundwork to expand its role in Asian energy markets when the countrys state environmental watchdog agency approved plans to build an oil pipeline that will stretch through Siberia to Russias Pacific coast. The pipeline will skirt Lake Baikal, the worlds largest freshwater lake and one of the countrys relatively few unsullied natural treasures.

Kim Iskyan