AFRICA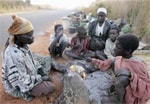 Unemployment and homelessness have risen sharply in Zimbabwe.
Following the controversial reelection of president Robert Mugabe in June, Zimbabwe has fallen into even greater economic chaos. Officials said annual inflation leapt to 11.2 million percent in June, fueled by high food prices and ongoing sanctions against the government in Harare. Private sources say the real rate could be as high as 20 million percent. Unemployment stands near 80%, the manufacturing sector remains at a standstill and food supplies are dwindling. Mugabe's critics say his administration printed money to finance his presidential campaign. The central bank has ordered a six-month moratorium on price and wage hikes and recently revalued the nation's currency by removing 10 zeros from the Zimbabwean dollar.
Having not started any projects in more than a year after its launch, the Nigeria-based Africa Finance Corporation (AFC), created to fund infrastructure development projects in Africa, ousted its president in late August. The board of directors voted unanimously to sack Austine Ometoruwa in a move that coincided with Nigerian president Umaru Yar'Adua's establishment of an inquiry committee to investigate central bank investments in the AFC. Of the AFC's capital base of more than $1 billion, $462 million was provided by the Nigerian central bank, whose governor, Charles Chukwuma Soludo, heads the AFC's board of directors.
South Africa is overhauling its inflation tracking system by re-weighting inflation baskets. Under the new system, the government will replace its CPIX index, which excludes mortgages, with a metric that targets consumer price inflation and factors in housing costs. Reserve Bank governor Tito Mboweni predicts the CPIX will average 13% this year, driven by higher wages and food prices, while the government's inflation target is between 3% and 6%.

Antonio Guerrero