CHINA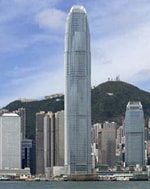 On the rise: China's rule changes have boosted Hong Kong's markets.
China has further relaxed constraints on the investment industry, saying it will, for the first time, allow private citizens to invest individually in the Hong Kong stock market. Following the announcement of the pilot program, potential investors swamped Bank of China Tianjin, the first bank allowed to participate in the program, and anticipation of investment money flowing from the mainland drove stock prices in Hong Kong to record highs. Implementation of the pilot program has slowed since the announcement, however, because of concerns that capital outflows from mainland China might destabilize Hong Kong and domestic stock markets. Chinese companies' stock prices in Hong Kong are significantly lower, based on price/earning ratios, than stock prices for the same companies on mainland exchanges.
The government's own investment managers are also spreading their wings. In order to fund an investment management company to oversee its more than $1.3 trillion in foreign exchange reserves, the Ministry of Finance sold 600 billion yuan ($79 billion) in special treasury bonds in late August. The new fund had already bought a $300 million stake in New York-based private equity company Blackstone in May. China historically has invested its foreign exchange reserves in US treasuries but has cut back its purchases, hoping to achieve higher returns through other investments.
Chinese companies are taking advantage of loosening financial restrictions to raise money through corporate bond issuance. In the past, issuances required the backing of a state-owned bank, effectively turning them into low-risk, government-backed bonds. Under new guidelines, some companies are allowed to issue bonds without bank guarantees. China Vanke and Gemdale, two of the country's largest property developers, announced plans in August to issue corporate bonds.
China Eastern Air says it will sell a 24% stake to Singapore Airlines and its parent company Temasek Holdings and will cooperate with Singapore Airlines in a number of areas. Singapore Airlines, Asia's most profitable airline, will gain greater access to China's rapidly growing airline market, while Eastern China Air, which has posted losses for the past two years, will benefit from Singapore Air's managerial experience and receive fresh capital. China Eastern Air's competitor Air China, in which Hong Kong-based Cathay Pacific Air holds a more than 17% stake, reported profits of 1.57 billion yuan ($206 billion) in the first half of 2007, a threefold increase from the first half of 2006.
Thomas Clouse