CHINA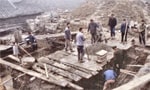 Chinas real estate sector takes a breather Mordashov: Vaults to forefront of industry

China CAMC Engineering in June became the first Chinese company in more than a year to launch an initial public offering (IPO) on one of Chinas domestic exchanges. According to the company, retail investors offered to buy 27.6 billion shares at the offering price, 576 times the 48 million shares CAMC offered. The IPO is likely to be the first of many this year on Chinas domestic stock markets.
As excitement builds over upcoming IPOs, so does concern that the new share sales will pull capital away from existing stocks.The Shanghai stock index has risen significantly thus far in 2006 but experienced its biggest one-day loss in more than four years on June 7, dropping 5.3% in a single day.
Another market that may cool is real estate with the imposition of a slew of new regulations. Loans for the purchase of luxury homes now require a 30% down payment, rather than the 20% down payment previously required. Additional taxes will be levied for homes that are sold within five years of their purchase, a move aimed at reducing market speculation. The China Banking Regulatory Commission (CBRC) is also pressing commercial banks to keep growth of real estate loans under control.
The pharmaceuticals giant Pfizer has won a legal battle on intellectual property rights (IPR) in China.A Chinese court in June upheld the companys 2001 patent on the active ingredient of the popular impotence drug Viagra, reversing a 2004 decision by the countrys IPR office that invalidated the patent. Many view the case as a test of Chinas commitment to IPR enforcement.
China Mobile, the worlds largest mobile service provider by subscriber base, announced plans on June 8 to purchase a 19.9% stake in Hong Kongbased Phoenix Satellite Television from Rupert Murdochs News Corporation. According to a joint statement, the three companies will collectively develop wireless programming for mainland Chinas mobile phone users, utilizing China Mobiles vast wireless network and Phoenix televisions programming.While it will provide News Corporation with better access to Chinas market, some have interpreted the purchase by state-owned China Mobile as a sign that China plans to maintain its tight hold over foreign broadcasting within its borders.

Thomas Clouse