Russia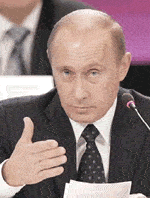 Putin: Due to step
down in 2008

Russia will likely take a big step closer to finally joining the World Trade Organization before the end of the year, after the United States and Russia reached an agreement in principle for a bilateral trade deal, which was one of the final hurdles for Russian entry. The safety of US beef and pork exports, access to Russia's financial services markets and protection of intellectual property rights in Russia were among the final sticking points. Admission into the WTO has been one of the few remaining key goals of the Putin presidency.
A flood of IPOs from Russia and the CIS was for the most part greeted enthusiastically by investors in recent weeks. Steel pipe maker TMK, Chelyabinsk Zinc Plant, Kazakhstan's Kazkommertsbank, steel maker Severstal and electricity generator OGK-5, among other offerings, have raised around $6 billion, signaling continued investor appetite for Russian assets. Some analysts attribute the strong flow of deals to the desire of founding shareholders to take some cash off of the table before an anticipated increase in political uncertainty, as Vladimir Putin's secondnd constitutionally finalerm ends in early 2008.
International Paper in late October announced that it will pay $400 million for a significant stake in Ilim Pulp, a Russian pulp and paper company. The deal heralds the emergence of the sector, which has since the end of the Soviet Union been one of the murkiest and least-transparent segments of the Russian economy. Russia told the former Soviet republic of Georgia that it will more than double the price it charges for gas, bringing it closer to market levels. The announcement reflects the continuation of the souring of relations between the two countries. Georgia said it is looking for ways to reduce its dependence on Russian gas. Meanwhile, the embattled president of the Kyrgyz Republic, another former Soviet republic, was forced to accept a new constitution, as unrest continued.

Kim Iskyan