RUSSIA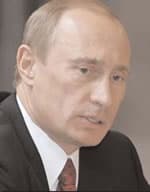 Putin:Big businesses
should be diversifying

Prosecutors brought fresh charges against former Yukos oil company head Mikhail Khodorkovsky and an associate, which could mean that they will face another 15 years behind bars. Khodorkovsky would otherwise have been eligible for parole later this year. He labeled the charges a shameful farce and contended that they were intended to prevent him from being free during the 2008 presidential elections. Norilsk Nickel CEO Mikhail Prokhorov announced he will sell his stake in what is one of the worlds largest platinum and palladium producers to partner Vladimir Potanin. The transfer may be a step toward the Kremlin, eager to continue to expand its presence in the natural resources sector, taking control of the company. Meanwhile, in early February Russian president Vladimir Putin urged big businesses to diversify out of commodities and to instead focus more on value-added products.
Of three planned Russian company IPOs anticipated in early February, metals company Polymetal and tech equipment supplier Sitronics closed the first day of trading below their offering pricedespite pricing at the bottom of the rangeand one, GV Gold, was postponed. Investors are clearly becoming more selective about Russian offerings, suggesting that state banks Sberbank and Vneshtorgbank, which hope to raise a total of around $15 billion in offerings later in the first half of 2007, may face an uphill battle. Another $15 billion in fresh stock is in the pipeline for 2007, although the continued anemic appetite for Russian IPOs bodes ill.
Defense minister Sergei Ivanov announced a $189 billion overhaul of Russias military, a move widely interpreted as evidence that Russia intends to expand its military influence. A few days later, President Putin said US military policy had the impact of encouraging other countries to seek nuclear weapon technology, as the recent downswing in US-Russia relations continued.

Kim Iskyan