CHINA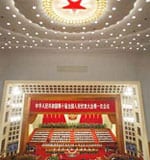 People power: This year's congress loosened rules on owning property

Chinas National Peoples Congress, which held its annual meeting in Beijing from March 5 through March 16, produced several groundbreaking new policies, among them a law that protects private property. The law, which reportedly has been the subject of intense debate within the Communist Party, allows citizens to own and sell assets such as property rights for 70 years. In another significant policy change, the government decided to unify the corporate tax rates for foreign and domestic companies. Previously, foreign-invested firms paid an average rate of around 15%, while domestic firms were required to pay a rate of 33%. Under the new law, all companies will be required to pay a rate of 25%.
The moves came shortly after the Shanghai stock market endured a nerve-wracking plunge that rattled markets around the globe. The 9% fall on the first day of the markets slide was the most severe one-day drop in a decade and dragged the New York Stock Exchange to its largest one-day point loss since the September 11, 2001, terrorist attacks. Despite the magnitude of the drop, many analysts and investors remain optimistic. From the beginning of the year through February 26, the Shanghai composite index rose 13.6%. The index more than doubled in 2006.
Despite the volatility, Chinas second-largest insurer, Ping An, successfully launched a domestic IPO on the Shanghai stock exchange. Ping An shares racked up an opening-day gain of almost 40%. The IPO was the second domestic IPO for a Chinese insurance company this year, after China Life offered shares domestically in January. Both companies are also listed overseas. Chinas insurance industry has boomed in recent years as rising incomes and reduced social services have bumped up demand for insurance and related products.

Thomas Clouse