Russia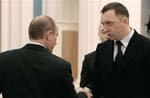 Friends in high places: Deripaska (right) and Putin.
French oil firm Total unexpectedly signed a deal in mid-July with Kremlin-controlled gas giant Gazprom to help develop the massive Shtokman natural gas field. The Russian government had earlier indicated that foreign participation in one of Russia's richest oil fields would not be welcome. It remains unclear what Total gets out of the deal, though, as Gazprom will retain full ownership of all gas produced.
In late July the owner of RussNeft, Russia's seventh-largest oil producer, sold the company because of what he characterized as "unprecedented persecution" by the Kremlin. The company had been swamped with accusations of oil-field licensing agreement violations, tax evasion and illegal share dilution. The forced sale by Mikhail Gutseriev was cast as part of the Russian government's efforts to increase state control over hydrocarbon assets.
The willing buyer—most likely a resting point before Rosneft can muster up the funds to pay for it—was Kremlin-connected metals magnate Oleg Deripaska. Just a few days before, Deripaska—second on the Forbes list of the richest Russians, with around $17 billion to his name—confirmed that his company, aluminum giant United Company Rusal, will go public later this year. The anticipated $7 billion to $10 billion offering of the world's largest aluminum maker on the London Stock Exchange may bring unwanted scrutiny on Deripaska, who had his US visa revoked last year amid concerns that he may have lied to the FBI, possibly in relation to connections to organized crime groups.
Politics assumed center stage during the dog days of July, with Britain deporting four Russian diplomats in response to Russia's refusal to hand over a suspect in the polonium-210 murder of Kremlin critic Alexander Litvinenko in London last year. Moscow followed in turn a few days later, as UK-Russia relations reached a fresh post-Cold War low during the first weeks under newly minted prime minister Gordon Brown. The spat appeared unlikely to spread beyond political posturing, though, with economic tit-for-tatting not in anyone's interest.
Kim Iskyan