Russia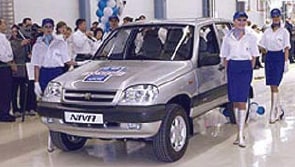 AvtoVAZ's joint venture with GM is on the rocks

Rumors circulated that metals giant Norilsk Nickel has discussed merging with state-owned diamonds giant Alrosa, suggesting that the Kremlin is accelerating its drive to control key sectors of the economy. Meanwhile, the management of Russias largest automaker, AvtoVAZ, was taken over by a state agency. There is now intense speculation that the AvtoVAZ joint venture with the USs General Motors will collapse. The government is also slated soon to release the details of its anticipated consolidation of the aerospace industry, which will increase Kremlin control over the sector.
Russian president Vladimir Putin tacitly admits that he is concentrating power in the Kremlin, and in what has become an annual January marathon news conference he contended that Russia needs strong presidential rule and said that votersand not himwould decide who would succeed him as president in 2008. He denied reports that he would move on to head Gazprom after leaving the Kremlin. Investors have continued to have a sanguine view of potential succession problems, bidding up the Russian stock market to new highs, with shares gaining close to 20% in 2006 through mid-February.
Russias efforts to nudge Iran away from the brink of confrontation with the West over its nuclear development program looked likely to fail. A high-risk effort to broker talks with Hamas further symbolizes Russias intensifying efforts to translate its growing status as a global energy power into political heft.
Russia was also demonstrating political heft of another kind last month. Following the New Years cutoff by Russia of natural gas supplies to Ukraine (and thus much of Europe) due to a price dispute, the two countries finalized a compromise. Under the terms of the deal, the price paid by Ukraine is roughly doubled, with a shady middleman company of partly indeterminate ownership collecting much of the windfall. Putin resisted pressure from the G-8, which Russia currently heads, to liberalize his countrys gas market.

Kim Iskyan