China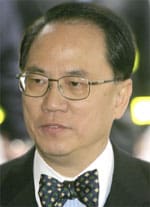 Donald Tsang

Donald Tsang, currently Hong Kongs chief secretary for administration, is favored to take over as chief executive of the former British colony following Tung Chee-Hwas resignation from the top job on March 10. Tsang will fill the role on an interim basis until Beijing elects Tungs successor. Tung, who gave deteriorating health as a factor behind his resignation, had struggled to recover from public disaffection with his leadershipdemonstrated most vividly when half a million Hong Kong residents took to the streets in July 2003 to protest against a proposed anti-subversion bill, which was later shelved. The former shipping magnate has accepted a largely ceremonial post as vice chairman of the Chinese Peoples Political Consultative Conference.
The opening of the National Peoples Conference saw Wen Jiabao, Chinas Premier, deliver a speech focusing on the need to aim for greater economic balance and equality. The Premiers speech stressed the need to continue to control fixed-asset investment and reduce the economys dependence on trade as a source of growth. Officials will this year target a 15% increase in export and import volumes, which would represent a dramatic slowdown from last years 36% growth rate. Wen Jiabao indicated that China would this year focus on addressing urban/rural disparities, environmental issues and improving the quality of economic growth.
The countrys leadership also attempted to allay US fears that the EUs proposed lifting of its arms embargo, imposed in 1989, will result in a flood of weapons purchases. Li Zhaoxiang, Chinas foreign minister, has stated that China doesnt have the money to buy expensive and useless weapons. Washington is concerned that the lifting of the embargo would allow a transfer of technology to China, changing the balance of relations between China and Taiwan.
Relations within Chinas corporate world were shaken by the unfamiliar sight of a hostile takeover bid. Shanda Online Entertainment, the countrys largest online entertainment company, plans to acquire Sina.com, the nations largest web portal. Sinas initial response to Shandas raid, in which it bought 19.5% of Sinas shares, was to put in place a poison pill allowing Sina to issue discounted stock and dilute an unwelcome bidders stake. If the merger goes ahead, it will create a group with an estimated market capitalization of $3.9 billion.

Fraser Richardson