Brazil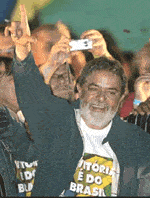 A jubilant President
Lula

As Brazilian president Luiz Inio Lula da Silva begins his second term in office on January 1, following an October 29 run-off victory, analysts are speculating about what the focus of his new administration will be. Lula has said that economic growth and job creation will be at the core of his policies, while Standard & Poor's believes policy changes will also center on reducing fiscal vulnerabilities.
To achieve their goals, Standard & Poor's recommends that the president and his economic team formulate a politically viable policy agenda to meet the goals, while his political team must build a cohesive cross-party support base among legislators and state governors in order to have any proposed legislation passed into law.
They may have their work cut out, though, as a recent economic slowdown could be deepening. Industrial output rose by 1.3% year-on-year in September, compared with 3.5% in July and 3.3% in August. Labor strikes and increased imports on the back of a strengthened currency were blamed for the slowdown. The data prompted local economists to lower their 2007 inflation forecast to 4.17%, for which the central bank is expected to lower interest rates further, after trimming the benchmark Selic rate to a record-low 13.75% in October.
Brazil returned to international capital markets in November with a $1.5 billion dollar-denominated issue that ended the sovereign's seven-month absence from the dollar sector. The global bonds, priced to yield 6.25%, attracted some $5 billion in investor demand, according to lead managers Barclays Capital and Deutsche Bank Securities.
Foreign direct investment looks set to grow, also, with German automaker Volkswagen, which had recently laid off 1,800 workers at its production plant in the state of S Paulo, announcing plans to invest $1.6 billion in its plants in S Paulo and Paran states over the next five years. The company said its new outlays will allow it to use its Brazilian facilities to develop new models.

Antonio Guerrero