Brazil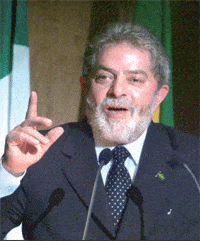 Lula: Frontrunner in election
race

Brazils central bank slashed its Selic benchmark interest rate in July to 14.75%, the lowest level since 1986. The cut, the banks ninth reduction since last September when the Selic stood at a record-high 19.75%, is sparking expectations for stronger GDP growth in 2006.
The United Nations Economic Commission for Latin America and the Caribbean (ECLAC) is one organization that is already talking up Brazils growth rate, having raised its 2006 forecast for Brazil by half a percentage point, to 3.5%, in July. While rates had been boosted to curb inflation, analysts expect that the inflation rates decline to an annualized 4% through June will encourage the central bank to bring the Selic down as low as 14% by year-end. However, the bank is likely to slow the pace of such cuts to ensure that higher GDP growth will not revive inflation pressures.
Lower inflation, dropping interest rates and increased growth will bode well for President Luiz Incio Lula da Silvas reelection bid in Octobers presidential election. Lula remains the frontrunner, with a poll by Datafolha in July giving the center-left leader 44% of votes, compared with 28% for former So Paulo state governor Geraldo Alckmin, a social democrat. The poll showed that a second-round vote would give Lula an even higher 50%, compared with 40% for Alckmin.
The government relaxed foreign exchange restrictions for exporters, allowing companies to hold up to 30% of export earnings abroad and avoid a financial transactions tax. Exporters had been forced to repatriate 100% of revenue within 210 days and pay the tax. The government expects exporters to use funds abroad for investments and to pay down debt, while hoping that lower demand for local currency will also temper its appreciationits already up 46% since 2004. Trade minister Luiz Furlan hopes the rule will be changed to allow for 60% of export earnings to be held abroad.

Antonio Guerrero