BRAZIL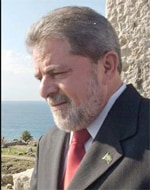 Lula: Out in the cold?

Brazilian President Luiz Inacio Lula da Silvas unexpectedly pragmatic and market-friendly attitude helped endear him to financial market players in the year following his election. It seems that the honeymoon may now be over, however. With some of the seams beginning to fray on his economic program and with
his political clout seemingly diminished, Lula may be heading for a bumpier ride. Citigroup and JPMorgan shed their bullish Brazilian positions in favor of a more bearish view in April. Citigroup cut its Brazil external debt recommendation to moderate overweight from a previousoverweight, citing its high beta, weak technicals and high levels of public and private debt. JPMorgan cut its recommendation to market weight from overweight, expressing concerns about the country's growth momentum and a worsening external environmentparticularly as Latin American markets brace for a possible tightening of US interest rates. There appears to be mounting consensus that Brazil has become more vulnerable.
The government continues to grapple with its own interest rate action, given higher-than-expected March core inflation and a lower-than-expected February industrial output figure. The central bank's monetary policy committee continued to cut the basic Selic interest rate by 25 basis points at each meeting, although some market watchers suggest that a larger 50-basis-point easing may be imminent.

Santiago Fittipaldi