CHINA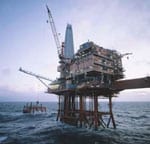 Eureka: New oil and gas deposits in China
China's stock market is again breaking records, with the Shanghai Composite Index surging past the 4,000-point milestone for the first time on May 9. Stock fluctuations early this year have not deterred China's investors, who continue to open new investment accounts at a rapid pace. So far this year the Shanghai Composite Index is up 50% after rising more than 100% in 2006. The skyrocketing stock prices may eventually lead the central government to intervene to avoid a market bubble. Such an intervention would require a delicate touch to slow the market without causing a significant sell-off.
The battle for market share continues to rage among foreign and domestic Internet companies in China. International giants Google and MySpace are struggling to overcome late starts to win over China's growing number of Internet users from strong domestic competitors. Google still trails significantly behind search engine market leader Baidu, which reported first-quarter net income of $11.1 million, a 142.6% year-on-year increase. Another newcomer, MySpace, began offering services in China in late April. It faces stiff competition from well-established domestic players as well as a number of smaller, homegrown companies with similar services. China currently has 137 million Internet users, making it the world's second-largest Internet market.
PetroChina, China's largest oil producer, reported on May 3 a huge oil and gas deposit discovery off the northeast coast of China. The company said that the newly discovered reserves could hold as much as 1 billion metric tons of oil and natural gas. Following the announcement, share prices of PetroChina in Hong Kong climbed almost 15%, making PetroChina the world's third-largest oil company by market capitalization.
Thomas Clouse