Brazil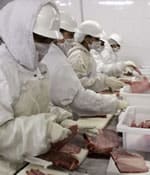 Beefing up: Brazilian meat producer JBS is set to buy the US's Swift
Following a spate of local IPOs by Brazil's main meat processing companies, sector players are now engaged in an acquisitions spree to expand their international presence. JBS-Friboi, a Brazilian meat producer, announced plans to acquire Swift, a US meat processor, for $1.4 billion, with the merger creating a major global player. With annual sales of $9 billion, Colorado-based Swift is the US's third-largest beef and pork processor and Australia's largest beef processor. JBS-Friboi, which went public in April, agreed to pay Swift's shareholders $225 million in cash and take on another $1.2 billion in debt in a deal slated to close in July. And Perdigão, one of Brazil's largest meat processors, is reportedly in talks to acquire Plusfood, another food sector company owned by Dutch Cebeco Groep. Perdigão, which completed an IPO last November, maintains offices in Asia and the Middle East and has been studying possible acquisitions in Europe and Asia. The Plusfood deal is estimated at €30 million.
Standard & Poor's upgraded Brazilian steelmaker Gerdau to BBB- from BB+, with a stable outlook. The rating on the company's $600 million perpetual bonds was also raised accordingly. Gerdau had been on the rating agency's CreditWatch list with negative implications since March. Brazilian corporate earnings continue to be boosted by strong exports and stable domestic fundamentals that have sparked consumer spending.
Arno Augustin was tapped as the government's new national treasury secretary, replacing José Massote de Godoy. Godoy held the post in an interim capacity since Carlos Kawall stepped down last December. Augustin, who was the nation's deputy finance minister, had also previously been finance minister for the state of Rio Grande do Sul. He is not expected to introduce any major changes to the National Treasury and is considered a member of President Luiz Inácio Lula da Silva's political circle.
Antonio Guerrero