RUSSIA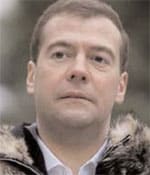 Medvedev: Struggling through a turbulent first year in office.
The Russian government is struggling to contain a rapidly unfolding and sharply accelerating economic crisis. The ruble has continued to slide—the currency has devalued 10% against the dollar since late September—as the Kremlin continued to burn through the country's foreign currency reserves at an alarming rate. Russian corporations lined up for state handouts in order to meet debt repayments, with $50 billion set to be doled out by state bank Vnesheconombank to various well-connected oligarchs and businesses facing margin calls and debt payments coming due. In late October the country's stock market rallied more than 50% from recent oversold lows, but shares were still down 66% for the year; the rally subsequently reversed itself by mid-November.
With the country's economy in tatters, its leaders decided to focus on security instead. In his first state of the union address, in early November, Russian president Dmitry Medvedev said that in response to Washington's planned missile defense system, Russia would move short-range missiles into Kaliningrad, a Russian exclave that borders Poland and Lithuania. On another front, Medvedev suggested that starting in 2012 the term of office of the president of Russia be increased from four to six years and that Duma representatives have their terms increased by one year, to five years. The measure, which was slated to be rapidly routed through the parliament, was widely interpreted as being aimed at paving the way for Vladimir Putin to be able to return to the presidency for 12 rather than eight years. Announcement of the measure also heightened speculation that Medvedev will step aside within the next year to allow Putin to take over as president.
The specter of renewed Kremlin meddling in the private sector raised its ugly head again as the government reopened an investigation into the 2006 flooding of one of the mines of fertilizer company Uralkali, a stock market darling for much of 2008. The circumstances invited comparisons to Putin's public assault on steel and coal company Mechel in late July and to the dismantling of oil giant Yukos years before.
Gordon Platt