MIDDLE EAST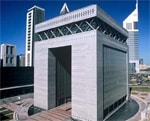 Dubai International Financial Center: Business is growing.
The opening of Saudi Arabia's stock exchange, the largest in the Arab world, to investors from outside the Gulf Cooperation Council (GCC) couldn't have come at a better time. Saudi stocks have been beaten down, with a decline of 27% for the year-to-date through September 10, which means that valuations are attractive, according to local brokers.
The decision by the Capital Market Authority (CMA) to allow foreigners to enter the Saudi market through swap agreements with authorized local firms was an unprecedented move for what had been the most restricted bourse in the region. Riyadh-based Falcom Financial Services said the announcement would attract huge interest from foreign investors looking to diversify their portfolios. "Over the longer term, the entry of sophisticated and deep-pocket investors will lead to reduced volatility," Falcom said.
Appetite for a quick profit from initial public offerings is still what drives the market, rather than medium-term investment decisions based on a balanced portfolio, according to a report by the economics department of Samba Financial. Individual investors account for 94% of all share-purchase trades on the Saudi exchange, Tadawul.
"Opening the bourse to broader foreign participation marks an important milestone in the CMA's efforts to add greater institutional ballast to the exchange," the Samba report said.
Under terms of the swap agreements, foreign investors will gain no voting rights on company boards, since the Saudi intermediaries will remain the owners of the shares. Both institutional as well as individual foreign investors will be allowed to buy the swaps and other instruments.
Elsewhere in the region, UK-based Jasper Corporate Finance was awarded a license to operate in the Dubai International Financial Center. State Street Middle East North Africa and UBS were recently authorized to operate in the Qatar Financial Center.
Meanwhile, Merrill Lynch said it would list an inverse tracker certificate for its GCC equity hedge basket on the Dubai International Financial Exchange. The value of the instrument will appreciate when the market falls, and vice versa.
Gordon Platt