MIDDLE EAST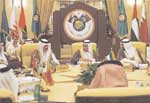 GCC monetary leaders are pressing ahead with plans for a single currency, despite pressures to revalue.
Central bank governors from the six member states of the Gulf Cooperation Council (GCC) gathered in Doha, Qatar, in April for their twice-yearly meeting amid signs that inflation is worsening in the region. Rising prices for food and shelter pushed inflation in Oman to a record high 11.1% in February, and economists say inflation in Saudi Arabia will soon rise above 10% for the first time. Doha and Dubai have been living with double-digit inflation for several years amid an economic boom.
While rising prices are putting pressure on GCC members to revalue their dollar-pegged currencies, the central bank governors say they did not even discuss the issue in Doha. Instead, they renewed their pledge to push ahead with plans to create a single currency by 2010. Economists say a decision to revalue would hurt the value of the GCC countries' dollar-based assets abroad, reduce their oil income and dampen investment, while doing little to curb inflation. Alone among GCC members, Kuwait dropped its dollar peg a year ago.
In another Doha meeting that made headlines, Israeli foreign minister Tzipi Livni held talks with her Omani counterpart, Yousef bin Alawi, during a visit to Qatar last month. The meeting was notable because Oman cut its relations with Israel after the start of the Palestinian uprising in 2000. Livni also met with Qatar's leaders to discuss ways of calming the volatile situation in the Gaza Strip.
Meanwhile, the region continues to polish its image as a financial hub. Standard & Poor's announced the launch of a partnership with the Hawkamah Institute and the Dubai International Financial Center to develop a corporate governance evaluation project for equity markets in the Middle East and North Africa. The initiative is designed to spotlight the region's listed companies, enhance transparency and strengthen investor confidence.
Gordon Platt