Russia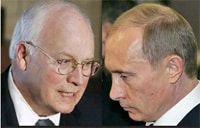 Butting heads:Cheney and Putin exchange harsh words

Relations between Russia and the US plumbed new post-Cold War depths as US vice president Dick Cheney labeled Russias energy resources tools of intimidation and blackmail and knocked Moscow for backsliding on democracy. Reflecting general sentiment in Russia, business newspaper Kommersant compared the comments to Winston Churchills 1946 Fulton speech, when he first warned of an Iron Curtain across Europe. In his state of the union address a few days later, Russian president Vladimir Putin took a veiled swing at what is viewed in Russia as the American my-way-or-the-highway attitude, although he dedicated most of the speech to addressing Russias demographic catastrophe, launching an effort to boost the countrys birthrate and reverse the population decline through financial incentives.
The war of words between the EU and Russian gas monopoly Gazprom continued, with the EU calling for increased access for European companies to invest in Russian energy supplies. The companys CEO had earlier warned that attempts by the EU to restrict Gazproms activities in Europe would not lead to good results. Meanwhile, in early May Gazprom became the worlds third-largest company by market capitalization, passing the $300 billion threshold.
The Russian IPO boom continued, with regional food retailer Magnit raising $368 million and sausage maker Cherkizovo raising $229 millioneven though two of the three lead underwriters resigned in the midst of marketing the deal, claiming that valuations were too high. The size of the IPO of state-owned oil company Rosneft was halved from $20 billion, however. The company said that high oil prices had reduced its need for capital, although adverse publicity over Russian corporate governance practices probably played a significant role as well.

Kim Iskyan