Russia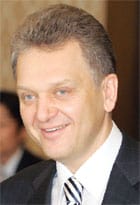 Viktor Khristenko

August, usually a sleepy month for corporate Russia, was anything but quiet this year. Recurrent fears of an economic slowdown were eased by continued strength in the price of oil, which, coupled with positive investor sentiment toward the global emerging markets, lifted the Russian stock market index to new all-time highsand to a 43% return in the year to date.
Government-controlled gas giant Gazprom appeared to be close to finalizing its purchase of Sibneft, one of Russias largest oil firms. The transaction was pending the finalization of a $10 billion loan to the gas company. On another front, state oil company Rosneft received a $7.5 billion credit linewhich was more than three times the size of any other borrowing by a Russian companyto purchase a stake in Gazprom. Both deals are part of what appears to be the process of consolidation of the Russian oil and gas sector into government hands.
At the same time, the governments plans to unify a range of aviation and aerospace companies under a single holding company began to take off, with industry and energy minister Viktor Khristenko suggesting that a presidential decree creating the organization will shortly be announced. The far-reaching restructuring effort is an attempt to resuscitate Russias once-proud aviation sector, which is in desperate need of rationalization and investment.
The banking sector continued to take steps toward reform, with the September 1 deadline for banks to sign on with a credit bureau, which should boost the development of the countrys consumer lending market. Meanwhile, Hansabank, the largest financial institution in the Baltic states, and Chinas Industrial and Commercial Bank of China were the latest banks to announce that they are initiating operations in Russia.

Kim Iskyan