India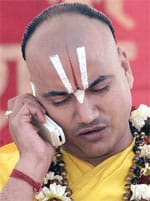 On call: Telecoms will be a key part of the coming round of IPOs

In a major relaxation of the rules covering the pension fund management industry in India, the government went against all expectations and allowed non-government pension funds to invest in the Indian equity markets. Private sector pension funds can now invest 5% of their assets in blue-chip shares. In addition, they can also invest 10% of their funds in equity-oriented mutual funds.
Given the $30 billion size of the private pension fund industry, this immediately opens up a $ 4.5 billion pool of long-term funds for the equity markets, besides adding an important asset class for the pension funds. This is a major step for a coalition government considered to be dependent on left parties that are disinclined toward reform and now has boosted reform expectations from this government.
The move couldnt have come at a better time for the Indian equity markets. A number of high-quality Indian companies are lining up to raise capital; already, in the past few months, eight well-known Indian corporate names have raised nearly $5 billion from the Indian equity markets. Now more are on the way.
One IPO that is on the horizon is in the telecom industry. As a prelude to its imminent IPO, Hutchison Telecommunications International (HTIL), which recently listed on the Hong Kong Stock Exchange, has consolidated its 13 mobile telephony licenses in India under Hutchinson Max Telecom, which operates its prime Mumbai license. The company with the consolidated licenses plans on raising $500 million by diluting a minimum of 10% of its equity. This will be the largest IPO in the telecom space in India and the first by a foreign company. HTILs 50% post-IPO stake in the consolidated company also represents the largest holding by any foreign company in Indias telecom sector.
Jet Airways, Indias largest privately owned carrier, is also planning to go public in mid-February. The company will offer 15% of its equity in an attempt to raise $300 million, which would value the company at $2 billion. The company is planning to use the cash to fund an expansion spree.

Aaron Chaze