RUSSIA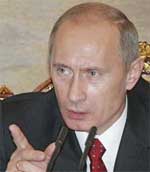 Putin: Backing his friend Dmitry Medvedev's election bid.
As widely anticipated, Russian president Vladimir Putin's United Russia party won the country's parliamentary elections on December 2, with 63% of the vote. In the weeks running up to the vote, Putin said that a victory for the party would give him the "moral authority" to continue in a position of power in Russia. Putin indicated that a high turnout—which wound up being north of 60%—would further support his claim. International election observers and opposition parties predictably characterized the election as unfair, pointing to harassment of the opposition, media bias in favor of United Russia and changes to election rules that reduced the chances of smaller parties winning seats in the house. Sticking to its script of the past eight years, the Kremlin blithely brushed off international criticism and continued to marginalize the opposition.
In the run-up to the March presidential elections, focus now shifts to precisely how Putin and the various power cliques in the Kremlin will finesse the process of maintaining power. Putin gave his unqualified support to his long-time friend Dmitry Medvedev's candidacy for president, although many suggest the next president will be a puppet who will temporarily assume the throne until Putin engineers his way back into power.
While politicians were fine-tuning their strategies, big businesses in Russia were working on their own plans. General Motors says it is bidding for a "significant stake" in Russian carmaker AvtoVaz, seeking to capitalize on the continuing consumer boom in Russia, where sales of foreign-branded autos have risen 60% this year. AvtoVaz, which is controlled by Russian arms export agency Rosoboronexport, has been in freefall for years. Its share of the market fell from 52% in 2005 to 38% in 2006, and its plant and facilities are in dire need of upgrading.
Kim Iskyan