RUSSIA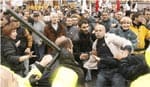 Strife on the borders: Georgia's president called for early elections and accused Russia of stirring up unrest.
Afew weeks after Russian president Vladimir Putin announced that he would lead the ticket for the country's dominant political party, United Russia, and suggested that he might consider being prime minister, Putin backed away—but said that he would still remain "Russia's leader." Indeed, if Putin does leave following March 2008 elections, he would be the first healthy and popular Kremlin denizen in modern Russian history to do so voluntarily. The December parliamentary elections are increasingly viewed as a referendum on Putin's future, with an overwhelming victory likely to be interpreted as a carte blanche for Putin to tweak the Russian constitution to remain in power.
But in mid-November the first chinks in the armor of Putin's bulletproof popularity ratings appeared, with United Russia's standing dropping six percentage points, according to one poll, on the back of rising food prices. The government's inflation target for 2007 of 8% looks likely to give way to a level closer to 10%. High oil prices, dollar weakness and a sharply appreciating ruble are hampering efforts to contain inflation.
Norwegian energy company StatoilHydro was chosen by Gazprom to be a partner in the development of the massive Shtokman gas project, joining France's Total. In 2006 Gazprom rejected US majors that were on its short list of partners before changing its mind in favor of European partners.
Meanwhile, turmoil on Russia's borders continued, with Georgian president Mikheil Saakashvili imposing emergency rule in early November. He called early presidential elections for January and contended that protests against his rule were being financed by Russia.
Kim Iskyan