Russia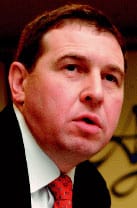 An exceptionally long holiday slumberwith an official New Years break that extended from January 1 through January 10in Russia was preceded by a final chapter in the so-called Yukos affair. On December 19 the companys main asset, production subsidiary Yuganskneftegas, was sold for $9.4 billion to a previously unknown entity called BaikalFinansGroup.
Gazprom was barred from the auction by an injunction issued by a US court, won by Yukos shortly before the sale. It was widely anticipated and subsequently confirmed that the Russian government was behind BaikalFinansGroup. It is likely that Yuganskneftegas will be absorbed into Rosneft, the Kremlins main oil company, which in turn is slated to merge with government-controlled gas giant Gazprom. China National Petroleum Corporation and/or Indian oil exploration firm Oil & Natural Gas (ONGC) have been rumored to be interested in buying a stake in Yuganskneftegas.
Echoes of Yukoss troubles could be heard in early December when Vimpelcom, Russias second-largest cellular phone network, was handed a $158 million bill for back taxes. The sum was reduced by 90% a few weeks later, but the episode triggered fresh fears that the Kremlins attack on big business is still a work in progress.
The fate of Andrei Illarionov, Russian President Vladimir Putins top economics adviser, did nothing to assuage those concerns. The outspoken Illarionov was fired from his secondary role as Putins personal representative for G8 summit preparations in a move that represents another defeat for the rapidly dwindling ranks of Russias liberals.
Some big businesses were showing signs they were ready to reduce their exposure to Russia, too. Deutsche Telekom on December 17 raised $1.73 billion through selling a 15% stake in Mobile TeleSystems, Russias largest cellular phone company. The German company retains a 10% stake in MTS.
Putins image took a drubbing after Viktor Yuschenko was elected president of Ukraine in fresh presidential polls. His victory is considered a blow for the Kremlins remaining designs on what it had regarded as Russias back yard.

Kim Iskyan