Russia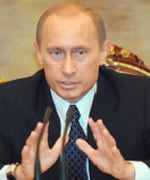 Russian president Vladimir Putin reshuffled the government in mid-November, promoting presidential administration head and long-time Putin loyalist Dmitry Medvedev to the position of first deputy prime minister. Sergei Sobyanin, the governor of the oil-rich region of Tyumen, was named to replace him. Defense minister Sergei Ivanov was also given the title of first deputy prime minister. Prime minister Mikhail Fradkov retained his post for the time being.
The reshuffle was widely interpreted as the beginning of the process of Putin positioning a successor to assume the mantle of the presidency in 2008, when his constitutionally mandated second term ends.
Questions continued to linger about the Kremlins growing role in the economy, as its efforts to assert control showed signs of extending beyond the oil and gas arena to encompass heavy industry and a range of other so-called strategic sectors. The burgeoning economy means that the Russian government has plentiful cash to pursue its corporate empire-building, following on from the recent acquisition by government-controlled Gazprom of the countrys fifth-largest oil company, Sibneft.
Elsewhere in the CIS, the ruling elite of Azerbaijan dug in their heels to ensure that parliamentary elections in early November would not follow the revolutionary lead of Ukraine, Georgia and the Kyrgyz Republic. Protests were quelled, and the government of Ilham Aliyev appeared positioned to retain its grip on power. Meanwhile, as the government of Viktor Yuschenko in Ukraine prepared to celebrate its first anniversary in power, in late October the countrys enormous Kryvorizhstal steel works were sold to Mittal Steel Germany for $4.8 billion$4 billion more than a group of insiders had paid sixteen months prior. The investment by Mittal increased total foreign investment in Ukraine since 1991 by 50%.
On another front, American coffee king Starbucks regained the right to use its brand on coffeehouses in Russia following a legal struggle with a trademark squatter who was demanding $600,000 for the logo. As a litmus test of the countrys commitment to addressing intellectual property abuses, the decision was a step in the right direction.

Kim Iskyan