Russia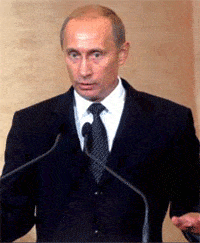 Putin: Taking a tough stance

Russia held its coming-out party in the northern Russian city of St. Petersburg when it hosted the annual meeting of the G-8 in mid-July. Even though events in the Middle East overshadowed the gathering, Russian president Vladimir Putin served notice that Russia is back on the global stage for goodand unafraid of exploiting its position as a global energy superpower.
Putin expertly parried any references by his guestswho in any case were wary of offending their hostto Russias so-called managed democracy and to the diminishing role of NGOs in civil society. A key disappointment for Russia, though, was that Putin failed to arrive at an agreement with US president George Bush that would allow Russia to enter the World Trade Organization.
One of the key drivers of Russias remarkable renaissanceoilwas back in the headlines when the head of Yukos resigned as a court-appointed administrator prepared to declare the company insolvent, following the flotation of state-controlled oil major Rosneft, which is composed in large part of the assets of what was Russias largest oil company. The American CEO of Yukos labeled the impending bankruptcy a sham aimed at expropriating the crippled companys remaining assets. Days later, creditors voted to liquidate the company.
Russian steel maker Severstal failed in its effort to merge with global steel power Arcelor, which was searching for an alternative to a bid from Mittal Steel, when Arcelor took up Mittals offer after all. Russian officials subsequently accused the west of discriminating against Russian companies and jinxing their international ambitions.
The country received some relief, however, in late July when Fitch boosted Russias credit rating a notch, to BBB+, on the back of continued economic strength and in particular a recent deal struck with the Paris Club to repay, ahead of schedule, the countrys entire remaining $21.3 million debt to the group. Fitch mentioned the countrys dependence on natural resources as a key weak point, however.

Kim Iskyan