RUSSIA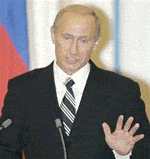 Putin's deft maneuvering will almost
certainly see him retaining power
In the second political bombshell in three weeks—following the surprise mid-September appointment of the obscure Victor Zubkov to replace prime minister Mikhail Fradkov—Russian president Vladimir Putin in early October announced that he would lead the ticket for party of power United Russia and that he might become prime minister next year when he steps aside from the presidency. Analysts posit that such an arrangement, which would likely be accompanied by legislation that would shift the Russian political system closer to the French model of a powerful prime minister, supported by a largely symbolic president, would neatly allow Putin to maintain his iron grip on the levers of power without changing the constitution to allow for more than two consecutive terms in office. Putin's 70%-plus popularity ratings virtually guarantee him support for whatever tactic he takes, ignoring the continued international din over the slow but steady erosion of democracy in Russia.
In the cabinet shuffle that followed the departure of prime minister Fradkov, finance minister Alexei Kudrin, one of the most prominent liberals in government, was promoted to deputy prime minister and saw his portfolio expand. Economics minister German Gref, though, got the axe but a few months later was rumored to be on the short list to take over the helm of government savings bank Sberbank.
Mid-October saw the re-opening of the Russian IPO window, with roughly 10 deals slated to go to market before year-end. After roughly $28 billion in new offerings during the first half of the year absorbed excess market liquidity, dashing hopes of market appreciation, concerns are running high that a fresh batch of cash-hungry corporates may stymie the October rally that lifted the Russian equity market to new historic highs. The good news—for the market, at least—was that the anticipated $7 billion offering by aluminum giant United Company Rusal was shelved indefinitely.
Kim Iskyan