India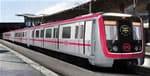 On track: Delhis new subway trains.
The metro railway authority in New Delhi placed a record order for 340 subway coaches with Bombardier Transportation, Montreal-based Bombardier's Indian subsidiary. Worth $590 million, the order is the largest ever placed by an Indian railway authority with any private sector corporation, Indian or foreign. The coaches are meant for the second phase of the Delhi Metro's expansion project. According to Bombardier, once the expansion is completed by 2010, the new high-capacity coaches will carry 4 million passengers every day.
The year 2007 is already turning out to be a record year for Indian companies making acquisitions overseas. In the first seven months of 2007, Indian companies acquired 110 companies overseas, with a total investment of $15.9 billion. Over the same seven-month period in 2006, Indian companies invested $4.6 billion, acquiring 93 companies. The average deal size has increased from $49 million in 2006 to $144 million in 2007. This acquisition spree by Indian companies is second only to that by Chinese companies in value terms—and in terms of number of overseas companies acquired, India is the largest among emerging economies, according to Dealogic. Indian companies now account for 40% of the total number of acquisitions emerging from the big-four emerging economies—India, China, Russia and Brazil.
Another all-time-high record was set in the market for domestic outsourcing halfway through 2007. Indian outsourcing companies have been recording consistent double-digit growth due to increased flow of contracts from US and European firms, but local Indian companies, too, are beginning to outsource to domestic service providers. India has become the largest market for domestic outsourced contracts in the Asia-Pacific region, surpassing Japan and Australia. In the first half of 2007, Indian companies awarded a total of $1.68 billion worth of outsourcing contracts, accounting for 30% of contracts generated in the region. Australia and Japan together accounted for 42% of the contracts awarded.
Aaron Chaze