RUSSIA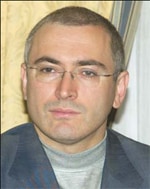 Yukos's Khodorkovsky

Markets responded positively to the re-election of Russian President Vladimir Putin and to indications that he will pick up the pace on the structural reform program that was a key focus of his first term in office. Key reformers in government kept their portfolios, following the late-February Cabinet shuffle. Russian stock indexes continued to hit new highs, reflecting 25-fold appreciation since late 1998.
The jailed former chief executive of Yukos Oil Company Mikhail Khodorkovsky issued a wide-ranging mea culpa, acknowledging the need for business to have a social conscience and calling for big business to pay more taxes. The attempt to make peace with the Kremlin didnt unlock Khodorkovskys prison cell but did result in the end of a government campaign to strip Yukos of licenses to a number of Siberian oil fields.
Metals giant Norilsk Nickel bought a 20% stake in South African gold miner Gold Fields Limited for $1.16 billion, vaulting Norilsk to a top-10 global gold producer position, in the largest single foreign investment by a Russian company. The purchase underscored an emerging trend of Russian corporates expanding abroad, following, most recently, the $296 million investment by oil producer LUKoil into 800 gas stations in the United States, and the acquisition of Michigan-based steelmaker Rouge Industries by Severstal.
Rumors swept through Moscow that Putin is close to abolishing curbs on investment by foreigners in gas producer Gazprom. The removal of the so-calledring fencethat prevents foreigners from buying local Gazprom shareswhich are already up 58% in the year to datewould significantly boost the valuation of the worlds largest gas company and turn it into one of the most liquid shares in the emerging market universe.
In a fresh sign of the growing depth of the Russian capital markets,defense company Irkut sold a 23% stake for $127 million, in just the thirdand largestIPO on domestic bourses.

Kim Iskyan