CHINA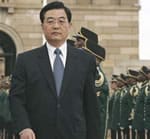 Chinese president
Hu Jintao

Chinas economy continued to sizzle in 2006 despite government efforts to slow the countrys growth to a more moderate pace. GDP grew more quickly in 2006 than it has in a decade, leaping 10.7% to $2.7 trillion. The rapid growth brings China closer to overtaking Germany, which has a total 2006 GDP of $3 trillion and a much slower growth rate, to become the worlds third-largest economy. The government in 2006 raised interest and reserve rates and limited investment in some overheated sectors. Such measures have yet to slow the economy significantly, and further tightening is likely.
Fear of such tightening measures and concerns over market speculation contributed to domestic stock market volatility early this year. The Shanghai Composite index, which more than doubled in value last year, dropped significantly in late January and early February following comments from government officials suggesting that speculation had played a significant role in recent gains. The market rebounded somewhat, but fears of a market bubble remain. To reduce speculation, the government has ordered the countrys banks to block loans for stock market investments.
China stoked fears of a renewed arms race in late January by testing anti-satellite weapons on one of the countrys outdated weather sensors. The successful test violated international bans on such procedures and left debris in orbit, risking damage to future space missions and satellite launches. While the Chinese government has yet to comment on the issue, the international community has largely condemned the tests, and worries continue to grow that the move may allow other countries to justify the development and testing of further satellite-related weaponry.
China-US relations were also shaken on the trade front, as the United States brought a new WTO case against China, charging that China gives export subsidies to companies producing steel, wood, paper and other manufactured products. Such export subsidies benefit companies that may produce up to 60% of Chinas exports, according to US trade officials.
Chinese president Hu Jintao visited eight African nations in early February, offering financial aid and negotiating various trade agreements. China is increasingly looking to African countries for support within international organizations and for natural resources needed to sustain Chinas rapid growth. While African leaders have responded positively to Hus visit, worries that China may be exploiting some of its trade relationships there are growing.

Thomas Clouse