INDIA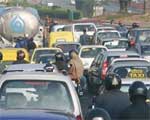 Hold-up: Aging roads are hindering Indias growth.
Twenty leading global and Indian infrastructure construction companies are bidding for the contract to build a $10 billion eight-lane expressway in the northern Indian state of Uttar Pradesh. This expressway will link the less developed eastern part of the state with the Indian capital, New Delhi, 1,047 kilometers (651 miles) away. This is the single largest standalone expressway project being constructed in India. Among the companies that have applied for pre-qualification are Macquarie, Australia's largest investment bank, which has teamed up with Gammon Infrastructure Projects, a leading Indian company. Other contenders for the project include such large Indian companies as Larsen & Toubro, Reliance Energy and Omaxe. Other global companies bidding are Canada's SNC-Lavalin and companies from Australia, Malaysia and the Middle East.
It is infrastructure investments such as the expressway in Uttar Pradesh that are sustaining global investors' appetites for Indian investment opportunities. Private equity investors are citing a $500 billion infrastructure investment plan and GDP growth of 9% as key factors for their sustained interest in India. The Carlyle Group has forecast that the Indian private equity market will expand by 40% in 2008. In 2007, $4.2 billion worth of private equity deals were completed in India, a 55% increase over deals done in 2006 and making India the second-largest market for private equity in the Asia-Pacific region after Australia. Private equity funds have reportedly invested a total of $12.9 billion in India so far.
However, the finance ministry's mid-year review of the economy for 2007-2008, which was unveiled in the Indian parliament in the first week of December, sounded a note of caution on capital inflows. It warned that large and sustained capital inflows over the past few years are presenting the country with short-term challenges as it tries to absorb inflows without endangering price stability and consequently economic growth. The rupee strengthened by 12% against the US dollar in 2007 to reach a 10-year high, the rise being due primarily to large capital inflows. The combination of a higher rupee, rising interest rates and five years of double-digit wage growth is likely to affect corporate profitability going forward.
Aaron Chaze