INDIA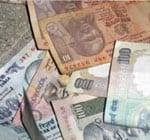 Winds of change: The Indian rupee rises against the dollar
The Indian rupee gained nearly 7% over a nine-week period culminating in the second week of May in a nine-year high against the US dollar on increasing capital flows. The rupee reached its high against the dollar at Rs40.545/dollar, a level last seen in May 1998. India's rapid economic growth has been attracting unprecedented foreign capital flows. Foreign direct investment for the fiscal year ended March 2007 reached $15 billion, the highest ever, while portfolio investments contributed another $10 billion to $12 billion. India's foreign exchange reserves now stand at a record $204 billion. The expectation is growing that, with continued high growth in the domestic economy, foreign capital flows will continue to grow, further strengthening the rupee.
While capital inflows to India are growing, Indian companies remain committed to making large investments overseas. Weeks after formally closing the $12 billion deal to acquire the UK-based steelmaker Corus Group in April 2007, India's second-largest steelmaker, Tata Steel, is looking to invest close to $2 billion in a new integrated steel plant in Vietnam. The Vietnamese government is looking for a partner to help it put up a 5 million ton integrated steel plant. If it succeeds in participating in the Vietnamese deal, it will be its second acquisition in Asia after the acquisition of Singapore-based NatSteel in 2004. Essar Global, another major steel conglomerate in India, acquired Algoma Steel of Canada in a deal worth $1.6 billion. Other Indian steel companies have announced very significant domestic plans.
The expansion in the domestic automobiles sector is one of the prime drivers of the Indian steel industry. According to latest figures from the Society of Indian Automobile Manufacturers (SIAM), the car segment continues to race ahead, but the motorcycle segment, which is the largest in the world, with annual sales of 6.5 million motorcycles, has started to falter. The motorcycle segment had seen rapid growth for several months in a row, but in April motorcycle sales fell by nearly 10% year-on-year to under half a million units—which follows a similar decline in March. However, car sales rose by 11.25% in April, and the outlook continues to remain positive. The motorcycle segment is extremely price sensitive, and six successive interest rate hikes by the Indian central bank has made leasing an expensive proposition, thus hurting sales.
Aaron Chaze