RUSSIA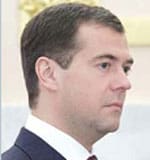 Dmitry Medvedev

The global emerging market correction brought investors in Russia back to earth, as the countrys equity market lost 10% in three days. After appreciating 71% in 2006, the Russian market is down 7% in the first 10 weeks of the year. A bulging offering pipeline and fears of rising political uncertainty are the key threats to market performance this year.

A government shakeup in mid-February elevated defense minister Sergei Ivanov to the same rank as Dmitry Medvedev, the first deputy prime minister, heightening the competition between the two most likely successors to president Vladimir Putin (see feature, page 42). Ivanov was relieved of his defense responsibilities, which will enable him to distance himself from public criticism surrounding hazing in the military and the lack of progress with reform. With elections just a year away, Putin has avoided lame duck status by keeping the competition to succeed him tight and uncertainwhile ensuring the loyalty of potential successors by keeping to himself his personal preferences, which would play a key role in influencing the outcome of the elections.

Sergei Ivanov

State savings bank Sberbank raised close to $8 billion in a secondary public offering that was marred by confusion over timing and pricing, excessive red tape that discouraged many investors from participating, charges of share price manipulation, and a series of public relations mishaps. Most of the offering was bought by the central bank of Russia, Sberbanks majority shareholder, and by Russian oligarchs who were eager to maintain good relations with the Kremlin.
A controversial journalist who focused on defense issues and was unafraid of irritating the government fell to his death from an apartment building. The immediate ruling-out of foul play by the authorities fueled speculation that the reporter, Ivan Safronov, is the latest entry in the long list of journalists who have paid with their lives for asking difficult questions of the Russian authorities.

Kim Iskyan